Hope everyone had a great Christmas and New Year break. I made 2 sets of bra and panties during the holiday! I first saw the Marlborough bra on Etsy and couldn't resist the temptation. This pattern was designed by Orange Lingerie and it's super pretty! The instruction is clear and detailed with illustrations. I also have Norma's ebook - Demystifying Bra Fitting and Construction. Her ebook really helps in fitting the bridge and editing the wires as my wire was a bit too long.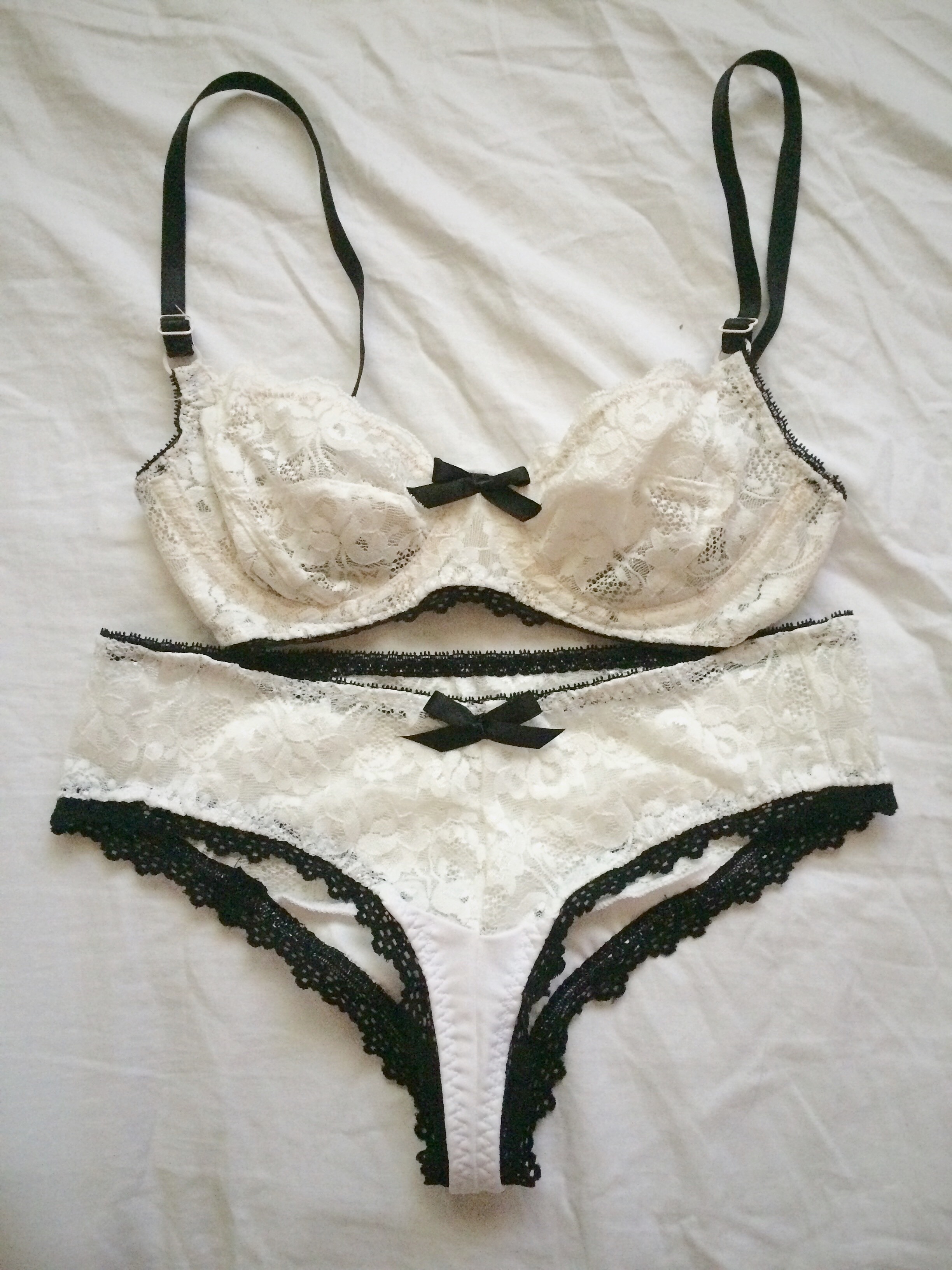 My first soft bra is a contrast white and black lace bra, I use lace trim from my stash and white lycra from Rathdowne fabrics. The rest material are either from Booby Traps or Makebra. Fitting the bra is a bit difficult at first, but eventually I got the idea. With Norma's bra, the fitting is quite good, I widen the bottom of the bridge and reduce about 1/8" of band width. The lace soft bra turn out pretty good! I made a pantie using Cloth Habit Rosy lady shorts (which is free) to go with this bra. Too bad my lace trim isn't wide enough so I had to get creative and use lycra with it.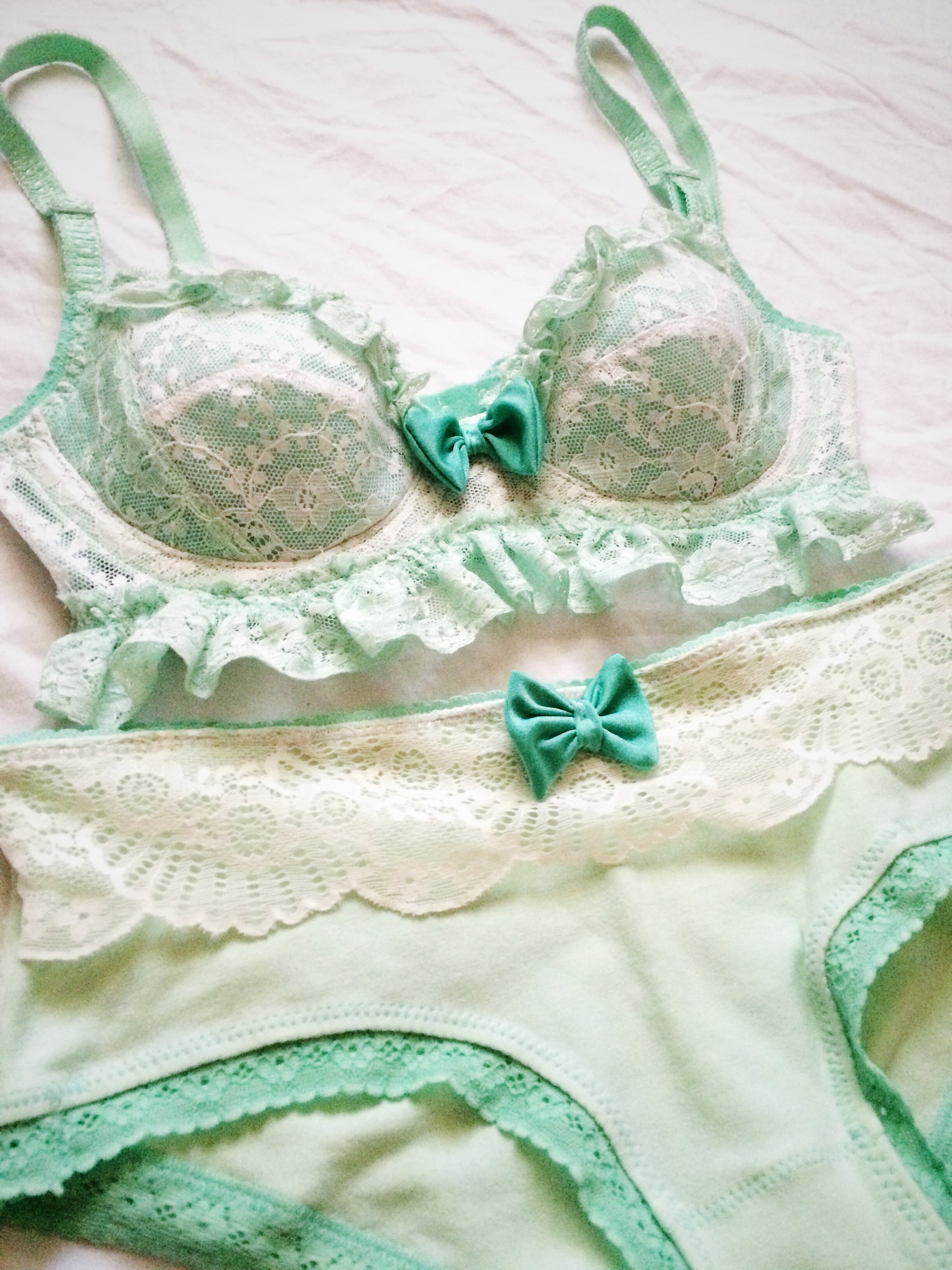 I usually prefer form-cup bra over soft bra as I'm small bust and saw this good post from Cloth Habit on Make form cup bra. So I decide to try this with my second bra. I use the form lining from Makebra, really like it as it is very soft against skin. The tutorial from Cloth Habit sew the form to the top of the cup but I have lace on top, so I sew it to the bottom cup's seam allowance (where it connect to the frame) instead.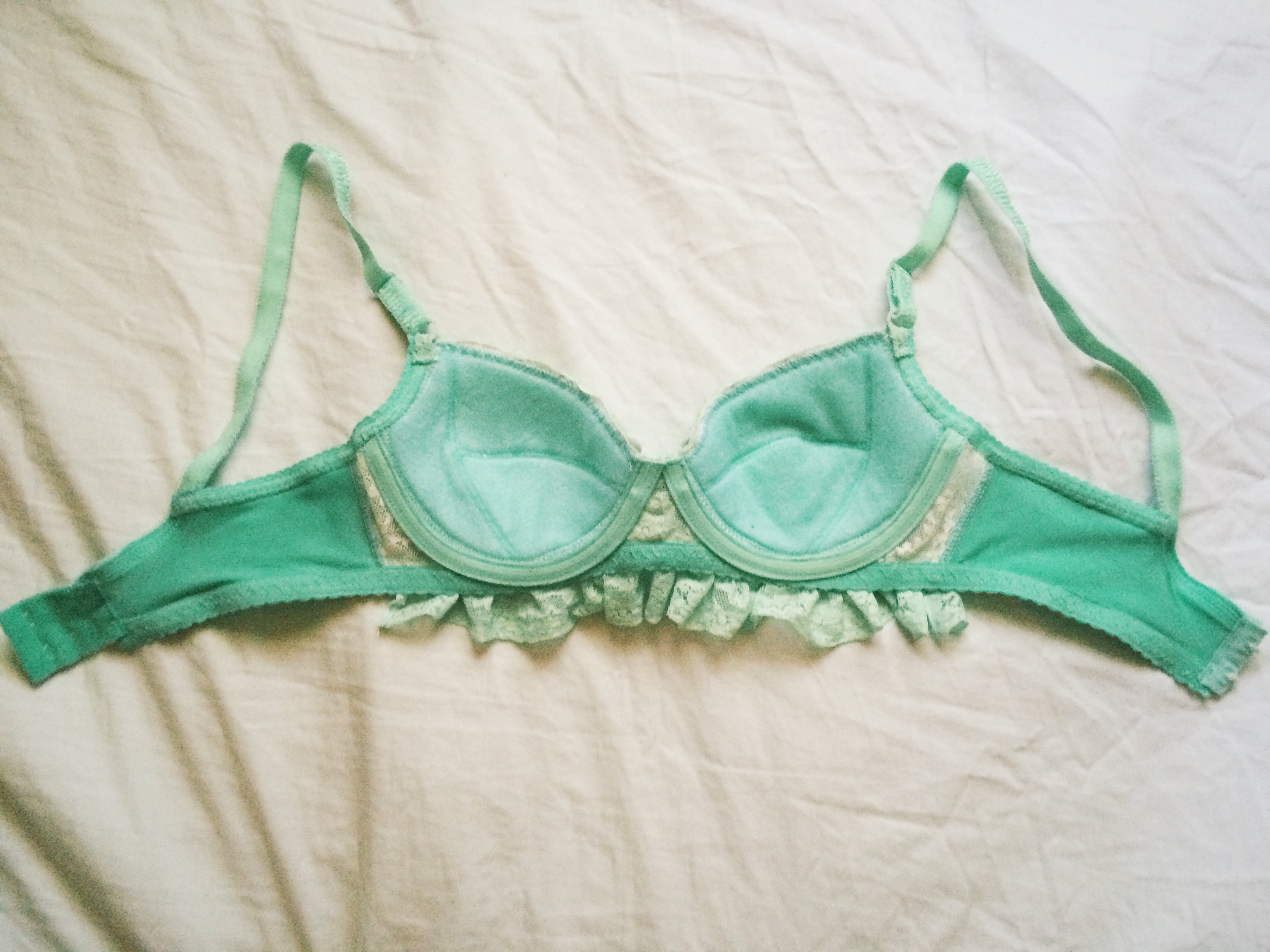 I dye the fabric to light green with liquid ColorRit Liquid Fabric Dye, Kelly Green and Teal and did noticed that the colour is a bit different on different types of fabric. So decide to use the white lace on cup as it shrink quite a lot after I pop it to the hot dye bath. I dye the form lining twice, the first time, the inside layer shrank quite a lot :( So if you plan to dye it, make sure you allow extra fabric for the shrinkage and don't cut it until you finish dying the fabric.Since I always fancy those super cute Japanese designed bra but can never get them in Australia, I thought to go a bit crazy with this experiment. I added lace trims to the top of cup and bottom of the frame and made big bow with the lycra fabric. I kind of like the result. I did notice that making form-cup bra I have to adjust the cup size a little bit bigger, otherwise it might be too small. So I would recommend make another sample testing for it as well.I use Ohhh Lulu Lola pantie for my second set. Because the lace shrink after the dye bath, I have to replace it with something else. So there is a not white but ivory lace on my pantie. I better go grab some super wide trim next time....  I like both Rosy and Lola panties, they are very similar design. I do prefer Lola as it has wider crotch area, which I find more comfortable wearing it. Ohhh Lulu have some pattern hacks tutorial on Lola like lace edge finish and lace back tutorials. Be sure to check them out if you are interested in making lacy lingerie!
---